Specialty Certifications
These certifications are optional for any Art Clay Certified Instructor. We are each and all drawn to different styles and techniques. While any Certified Instructor qualifies to take any specialty certification, only Art Clay Certifying Instructors are able to teach the specialty certifications upon their proper completion.
---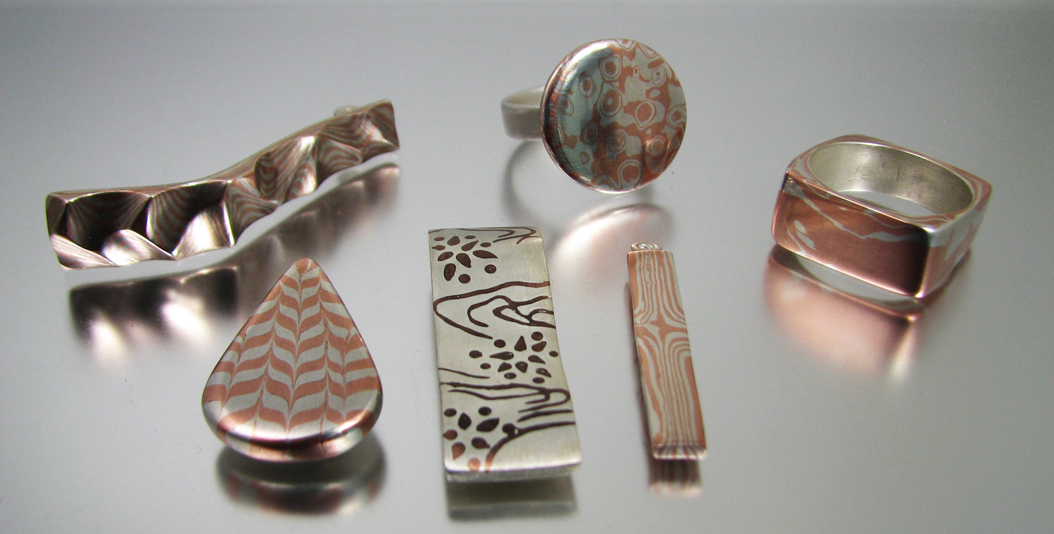 Metal Clay Mokume-Gane Certification
Art Clay Mokume-gane is a combination of Art Clay Silver and Art Clay Copper into specific patterns, and fired using a 2-phase single firing schedule.
There are 6 projects in the Mokume-Gane Certification:
Inlay Pendant: A dimensional silver clay base is formed, and then a pattern hand-carved into the silver. Copper is inlaid into the carved design, and bail backs are added.

Carved Brooch: Layers of alternating silver and copper and carved into, revealing a wood-grain-like pattern. Brooch findings are attached to the back.

Oil Drop Ring: Layers of alternating silver and copper are pressed specifically so that a unique pattern emerges that resembles drops of oil spreading on a watery surface. The domed patterned clay is mounted onto a silver ring band.

Cross Pattern Pendant: Layers of silver and copper are handled and twisted to reveal a distinct cross pattern within the mixed metals. A silver eyelet is embedded.

Marbling Ring: Silver and copper are mixed in specific quantities to create a marbled pattern and formed into a large, squared ring.

Arrow Feather Pattern Pendant: Alternating rows of silver and copper are turned into distinct feathered patterns, mimicking the art created in latte foam on your favorite coffee.
The Mokume-gane Certification Workshop is completed in 5 full days, or 40 contact hours. Once the class portion of the Certification is finished, students have 30 days to send in their single jury piece and firing test strips. Certification is complete upon the students' passing of the Jury, and their Mokume-Gane Certificate is issued and sent from Aida Chemical Industries in Japan.
---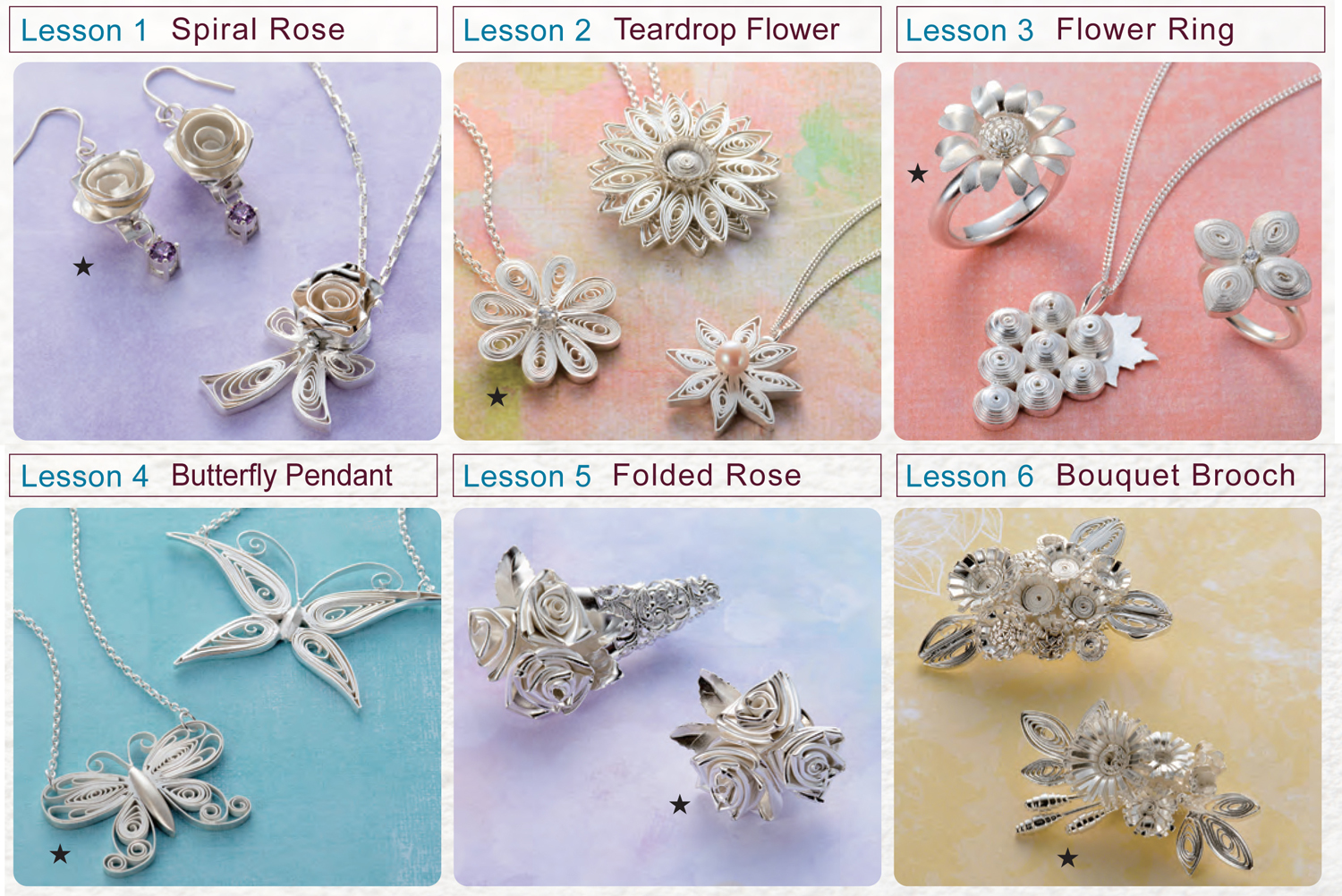 Silver Quilling Certification
Quilling with Art Clay Silver relies on the Art Clay Paper Type formula. Strips of the silver paper are cut, quilled, twisted, folded, and fringed to form spectacular patterns and shapes.
There are 6 projects in the Quilling Certification:
Spiral Rose Earrings: Circles of Paper Type are specifically cut and rolled to form matching roses, which are then attached to curved clay platforms to make earrings.

Teardrop Flower Pendant: Multiple strips are trimmed then quilled to form identical teardrop-shaped flower petals. The petals are arranged around a setting for a faceted gemstone. A bail is added to the back to complete the pendant.

Flower Ring: A ring band is formed in fine silver clay. Punched Paper Type flowers are mounted, with rolled fringed Paper Type in the center.

Butterfly Pendant: A solid clay body is surrounded by multiple strips of silver Paper Type, in a variety of different quilled shapes, to form the butterfly's wings.

Folded Rose Pin: Tapered strips of Paper Type are carefully rolled and folded to form a small bunch of roses, complete with leaves. A single pin finding is embedded in the back.

Bouquet Brooch: This delicate and elegant bouquet features 3 types of flowers, 2 types of leaves, and additional rolled beads, all from Paper Type. Once the bouquet is assembled, brooch findings are attached to the back.
The Silver Quilling Certification is completed within 3-4 full days, or up to 32 contact hours. Certification is achieved once the student properly completes all 6 certification projects. The Certificate is issued by Art Clay World USA, Inc.
---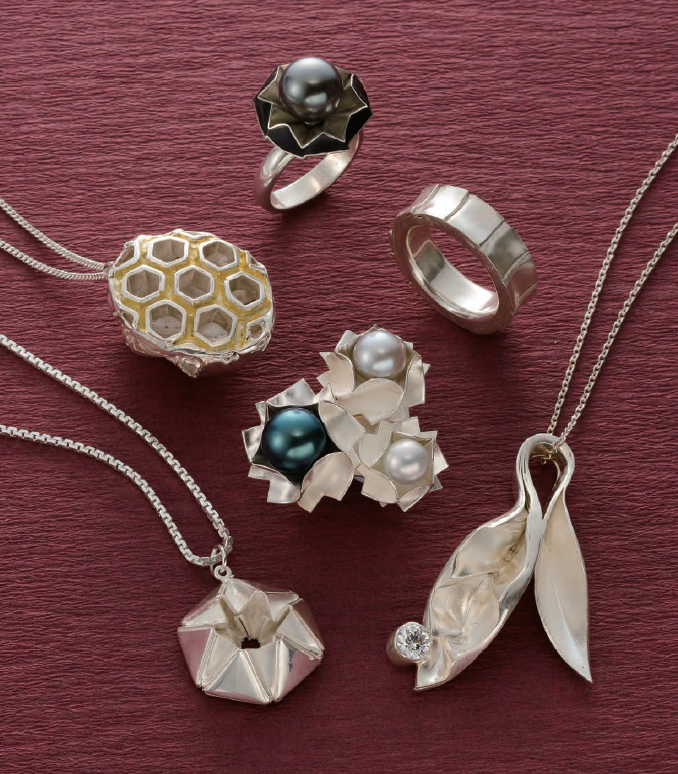 Silver Origami Certification
The Origami Certification in Art Clay introduces a new product to the Art Clay lineup: Art Clay Paper Type PLUS. This Paper Type is 2.5 times thicker than the original Art Clay Paper Type, and allows for achieving crisp lines through scoring. Because Origami is not a common art practiced in the United States, there are two Intro to Art Clay Origami projects highly recommended before beginning the official Silver Origami Certification projects.
Intro to Origami Projects:
Fan-Folded Gemstone Pendant: An important introduction to styles of folds, paper clay handling, and dimensional shape formation.

Pinwheel Ring: A sturdy ring band supports a pinwheel made in Paper Type Plus. The pinwheel is an intro to the new Paper Type Plus, as well as measuring, reading an origami plan diagram, and scoring.
Origami Certification Projects:
Bellows Ring: A channel-banded ring attaches to bellows-folded Paper Type.

Pyramid Link Pendant: A detailed and uniquely scored and folded pattern results in a stunning geometric pendant.

Leaf Pendant: Original Paper Type and Paper Type Plus are combined to form an organic leaf-themed pendant, complete with a gemstone set in a way that replicates the look of a tube setting.

Beehive Pendant: Paper Type Plus is inset with lump clay to create the look of a beehive, complete with dimensional folded original Paper Type.

Squeezed Texture Ring: A folded and layered Paper Type focal element cradles a large pearl, and is mounted on a half-round ring band.

Cherry Blossom and Pearl Brooch: The cherry blossoms, each a different size, are created using Paper Type. Each flower holds a pearl, and together they are mounted on clay to form a lovely brooch.
The Origami Certification is the newest specialty certification, premiering through Art Clay World USA, Inc. in 2019. The certification is intended to be completed in up to 32 contact hours; if including the Intro to Origami projects, up to 40 contact hours. Certification is achieved once the students properly completes all 6 certification projects. The Certificate is issued by Art Clay World USA, Inc.
---
If you would like to become an Art Clay Certified Instructor, please give us a call to set up a certification class for you! Classes can be run at almost any time you would like.